The new Air Kitchen is a unique contemporary designer kitchen featuring the best of British craftsmanship. Modern eco-materials and time honoured construction techniques, brought together in one sleek modern retro kitchen.
The Air Kitchen range is an exclusive retro contemporary kitchen inspired by innovative designs of the last century. Vintage automobile construction, the hulls of working boats and the iconic Airstream caravan; design classics which inspired this curved kitchen design of aluminium panels, polished rivets and futuristic push-to-open solid surface doors. Cutting-edge eco-materials compliment warm oak for a contemporary retro designer kitchen. Sleek, understated units fascias accentuate those pleasing curves which define the Air Kitchen range. Base cabinets appear to float whilst pod-like larder units and appliance cabinets stand on slender stainless steel legs, all adding to an exciting feeling of space and airiness in this modern kitchen with a vintage twist. Air was proudly designed and built in Great Britain for a bright new age of contemporary design; a future classic for contemporary living
Craftsmanship
The Air Kitchen uses both traditional and ultra-modern materials, bringing classic design elements up-to-date but keeping the same spirit of adventure which first inspired them. Air is a triumph of British craftsmanship and design.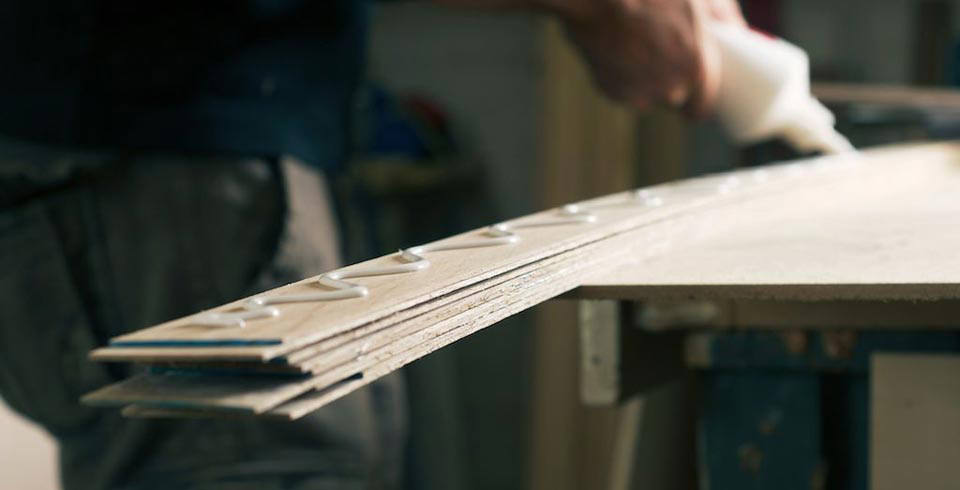 The process of laminating curved oak for our cabinets gives a rigid, stable curve to support our solid surface doors. Rolled aluminium, riveted to oak frames is a time-honoured method used in the iconic Airstream caravan's frame construction. Air's aluminium panels are annealed to make them more pliable and then rolled by hand by our carpenters as industrial fabricators could not match the 1mm tolerance required for a perfect fit. Good old fashioned ingenuity and testing were required to develop elegant techniques to manufacture this innovative kitchen.
It's these traditional skills and minute tolerances that add finesse to the striking forms and clean lines of the Air Kitchen. Solid surface handless doors and draw fronts introduce a new generation of kitchen surfaces, made from recycled aluminium ore and acrylic resin. Surprisingly soft and tactile, these open by pushing a pleasing dimple set in the door for a completely handless kitchen. White Silestone, Carrara Marble, Honed Black Granite and Limed Oak worktops add practicality to this inspirational range of furniture designed to impress for generations.