The Classic English Kitchen
Guide price £30,000–£70,000
A truly bespoke kitchen made at any size and with any finish, our Classic cupboards continue a tradition of English carpentry that is made to the highest quality and without compromise.
Bespoke Georgian Furniture
A truly bespoke kitchen made at any size and with any finish. Inspired by traditional Georgian furniture and farmhouse kitchens, our Classic range of cupboards continues a tradition of English carpentry that is made to the highest quality and without compromise.
If you are looking for a beautifully handmade kitchen with history, painted in your choice of colour and made specifically to fit your home, if you like something really special but not showy or ostentatious, if you want a kitchen for life and prefer quality and a timeless look over the latest fashionable alternative then this is the kitchen for you.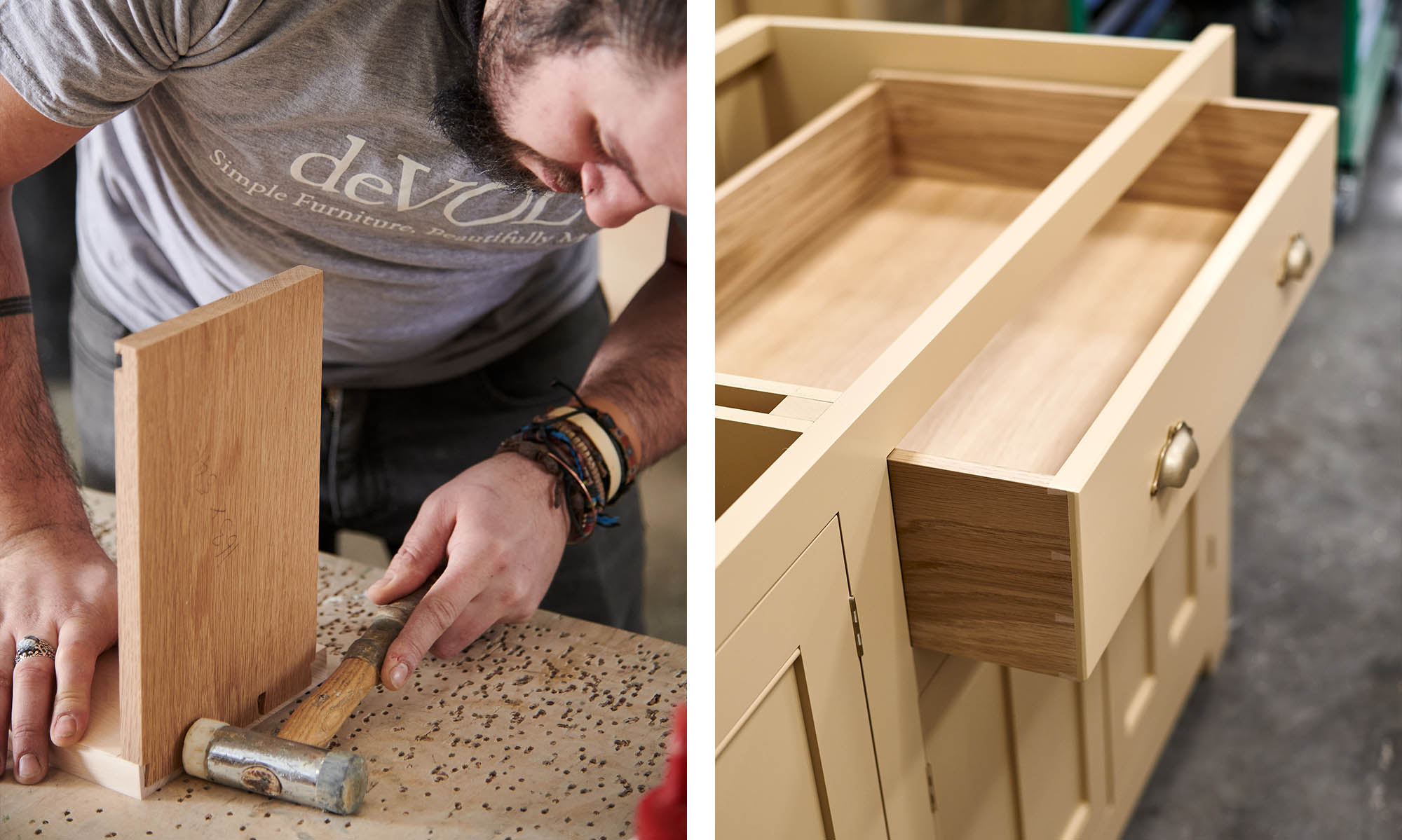 Our bespoke Classic kitchens have been handmade to measure in our Leicestershire workshops for over 30 years. This is where it all began for deVOL, these cupboards were designed by Paul in the very beginning. He took inspiration from traditional Georgian furniture, the proportions and the styling, and created a perfect range of kitchen cupboards.
This era of furniture is beautifully simple, functional and yet grand in an understated way. Paul adapted certain pieces, he hid dishwashers and appliances behind doors and updated the internals so that they would work perfectly in a modern kitchen, whilst retaining their integrity and imposing scale. This furniture is really well suited to large homes with high ceilings, it has a grandeur about it but also a simplicity that enables it to work in sculleries, boot rooms and utilities as well as kitchens. Every piece of furniture feels substantial and is handmade from solid hardwood so it's tough and strong too. These cupboards are a true piece of England, they are wonderfully elegant and charming in a practical way. Looking to the past for inspiration is such a clever way to furnish your home, it ensures an enviable restraint which is the key to great design.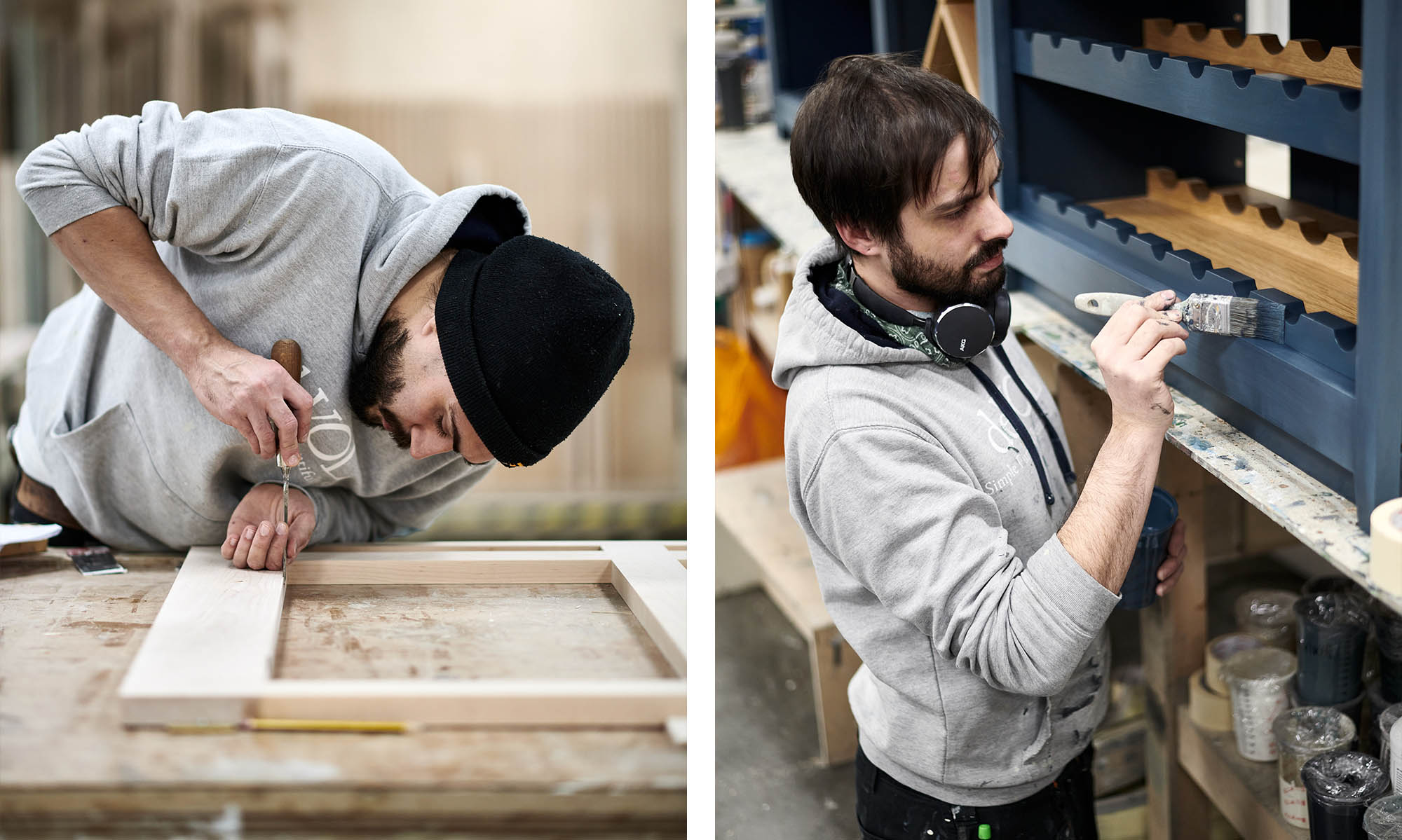 Our Classic English kitchen cupboards have traditionally-made doors and fascias, constructed from prime 'rock maple', which we carefully select to ensure the tightest of tolerances. The oak drawers replicate exactly the look of a traditionally hand cut dovetailed drawer, whilst incorporating the practicality of a soft close drawer runner, something that no other furniture maker is able to offer. We use solid birch cheeks on the exterior of our cupboard carcasses as well as solid birch shelves, combined with traditional tongue and groove hardwood backboards. These solid timber boards are used in combination with birch plywood interior components to provide the perfect balance of traditional and engineered materials.
We paint the interiors and exteriors of our cabinets using water based paints, which are brush applied to all the exterior surfaces. Our process of brush painting not only creates a subtle traditional appearance but enables our furniture to be quickly and easily touched up in the event of the inevitable knocks and scrapes that happen over time. In many respects, we are quite old fashioned with our approach to making furniture, but sticking to traditional principles ensures a product that ages gracefully and is a pleasure to live with.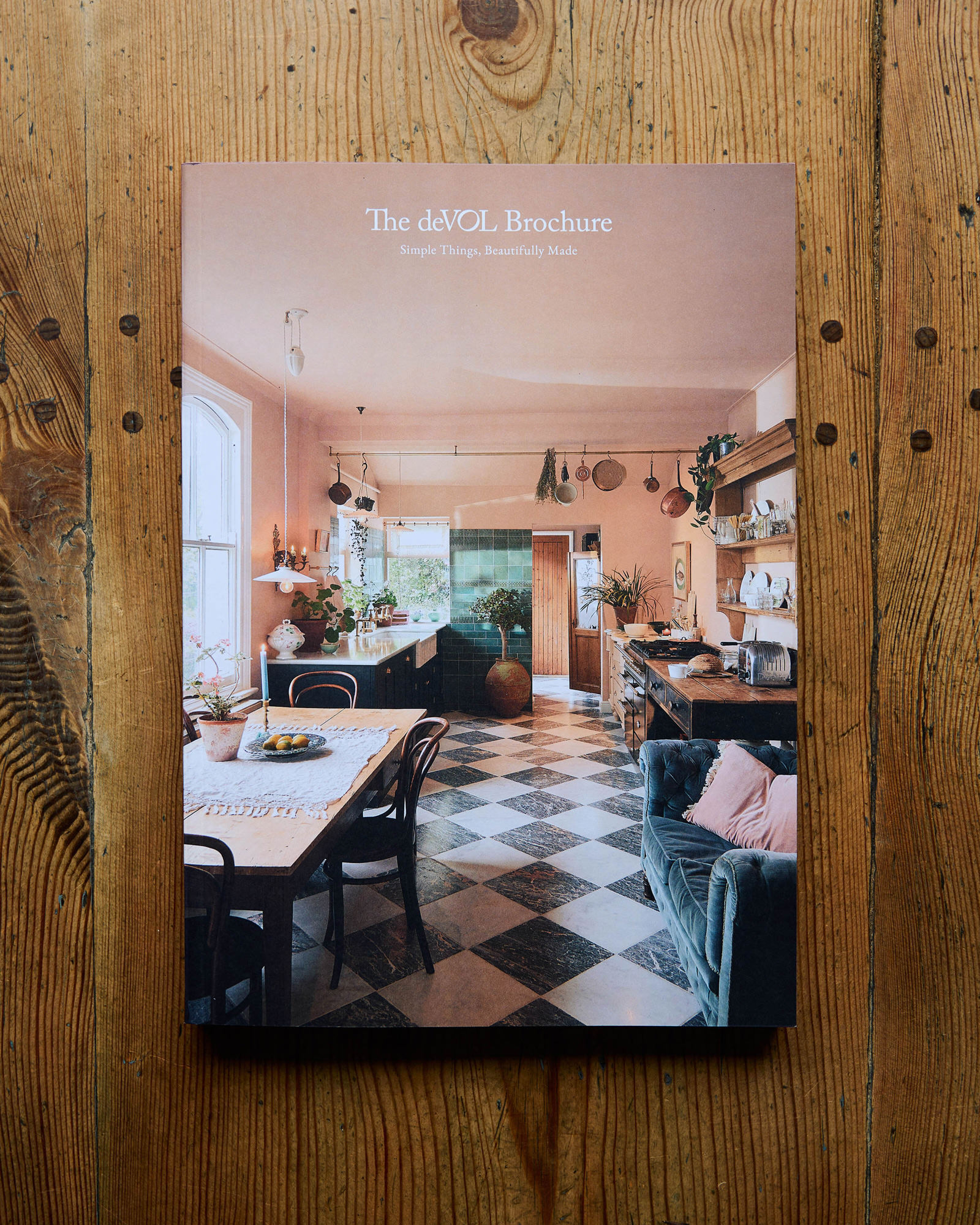 The deVOL Brochure
Within the pages of our brochure you'll find inspirational kitchen projects and learn more about our five beautiful ranges.
Request a free printed copy