The Amber Glaze Teapot
⌀
110
h
195
mm |
700 ml
|
We are currently out of stock of this item, please check back soon.
0.00
Description
We have now sold out of our handcrafted teapots. This was our very first batch of slip cast teapots, each one is just a little bit different with unique quirks and imperfections. We hope to have more stock available soon.
Our new teapots are cast with a stoneware slip which fires to a dark charcoal black. The bisque-fired pieces are individually dipped in glaze before a final firing where the glaze reacts with the manganese in the clay to produce this unique mottled caramel colour.
 
ø 110   h 220 mm   |   700ml
Delivery
This item is subject to the following delivery charges:
UK Standard*
£8.50
(per order)
Europe Standard**
£35
(per order)
'Rest of World' Standard**
£80
(per item)
We aim to dispatch stocked items within 2 working days but may take longer during busy periods.
Items that are made to order have lead times and will be dispatched as soon as they are ready.
Orders to Europe and 'Rest of World' countries will be dispatched when all items are ready. If you wish to receive your items as soon as possible, please consider placing them as separate orders.
If you need to amend your order after you've placed it, please contact us at websales@devolkitchens.co.uk as quickly as possible as we are unable to make any changes to orders that have already been processed in our workshop.

*Higher rates apply to some UK addresses.
**Charges inc. all applicable tax & duty.
To see a full list of delivery charges and locations, please click here.
Returns
Most of our accessories are eligible for return within 28 days. However, bespoke items, our range of paints, candles and product samples are not eligible for returns (we also cannot accept returns for any taps that have been plumbed in).
If products are returned to us in the condition in which they were sent we will issue a full refund for the cost of the item, excluding any delivery fees (and a 10% restocking fee if you are ordering from outside of the UK).
A printed order summary and returns slip should be included with each shipment you receive. Please complete the form and return any items to the address provided on the integrated label (please note this is not a pre-paid postage label). You will receive email confirmation once your return has been processed and accepted. Any refunds should appear within your account within 10 working days.
We're not able to cover any return postage costs, or any loss or breakages that occur during the return process. We therefore recommend that returns are made using the original packaging with a tracked, insured and signed for service.
If any of your items arrive damaged or faulty, or you're unhappy in any way, please contact us directly at returns@devolkitchens.co.uk within 7 days of receiving your items and our team will be happy to help.
perfectly imperfect, by deVOL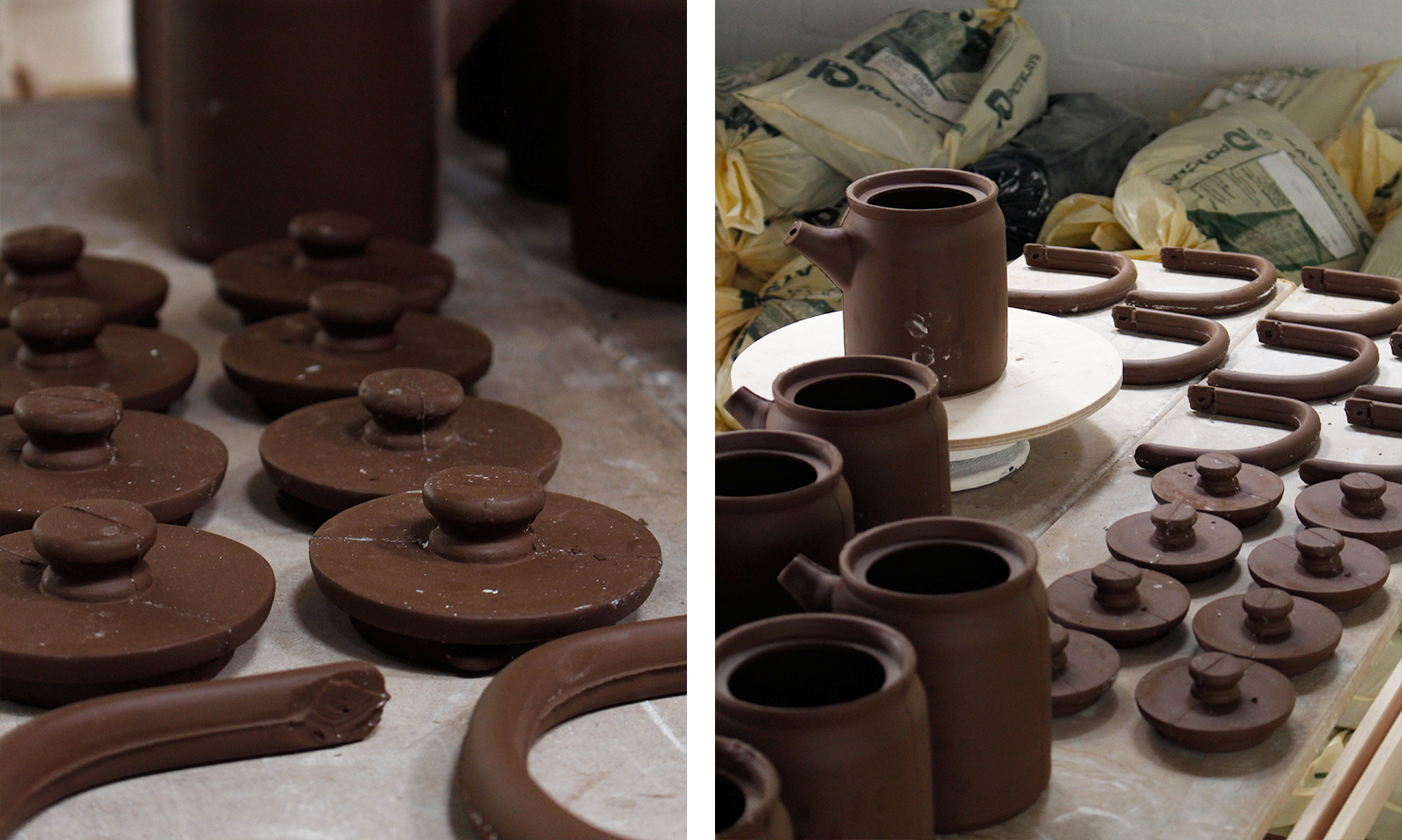 We never say no to a challenge, we get a buzz out of designing great products and the biggest buzz comes from experimenting with new materials and trying our hand at notoriously difficult things! Learning the design limitations and the most fascinating characteristics of a new material and a new method of production is what keeps us interested as designers and makers. A proper English kitchen needs a proper English teapot, but boy are these things tricky to master. Luckily, we have Claire and Ellie and the whole ceramics team raring to put in the hours and suffer the many failed experiments and disappointing firings. But, finally, after a few drippy spouts and kiln mishaps, we think our first deVOL teapot has turned out quite beautifully.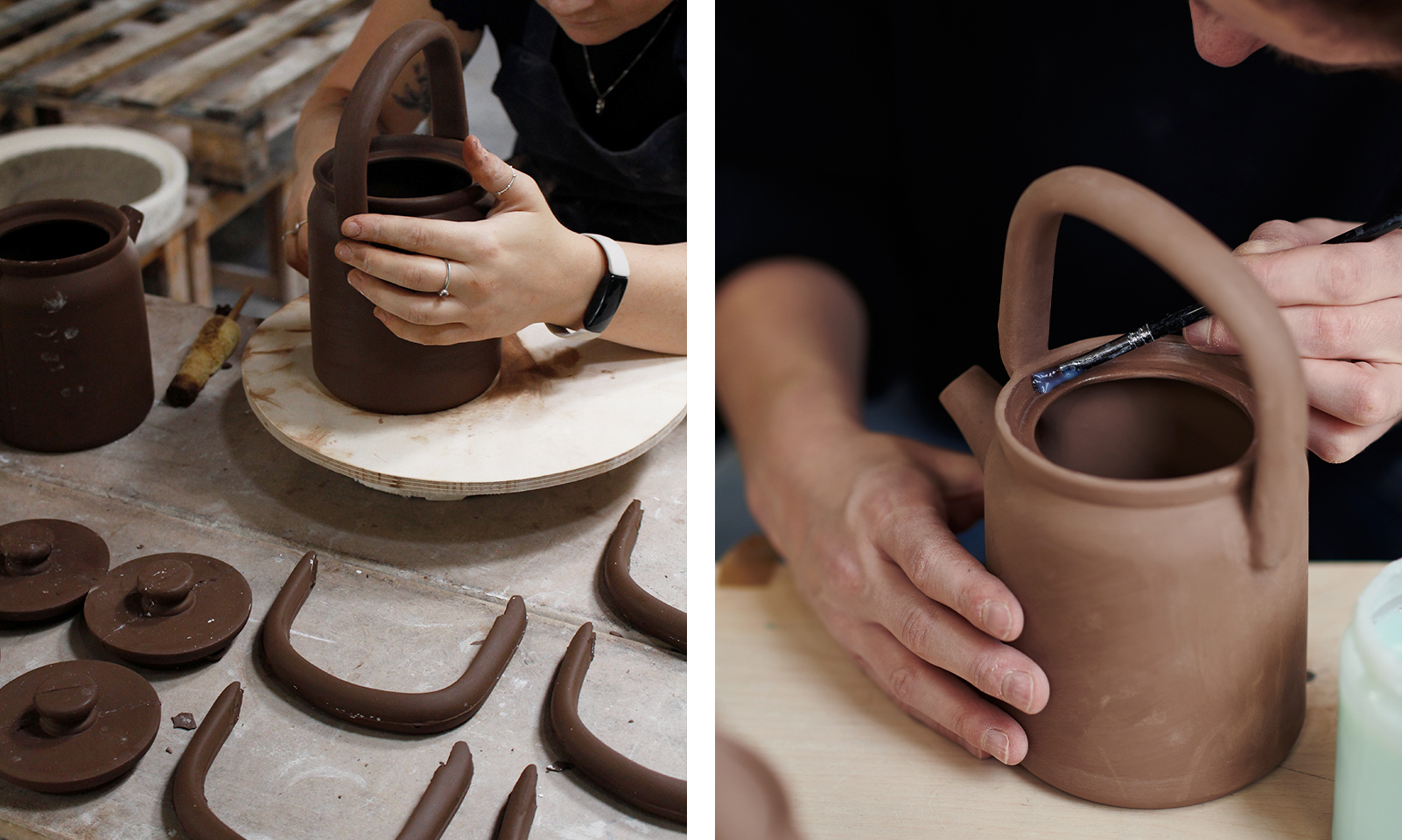 Our special amber glaze is actually a simple off-white recipe that Claire developed a few years ago. When applied to a typical white stoneware clay, it appears an ivory colour, quite plain and perhaps a little underwhelming. It is only when applied to the dark stoneware that the glaze reacts with the manganese in the clay to create that lovely caramel hue and a really glossy smooth surface. The tone and finish of each piece can vary based on the thickness of the glaze, the method of application, the form of the pot and how the glaze sits on it, the position of the pot in the kiln, which kiln we decide to fire in, the length of the firing, how long we hold the kiln at the top temperature, and so on. It's a truly unique glaze, something that can be a real nuisance but also quite fascinating from a scientific and artistic point of view.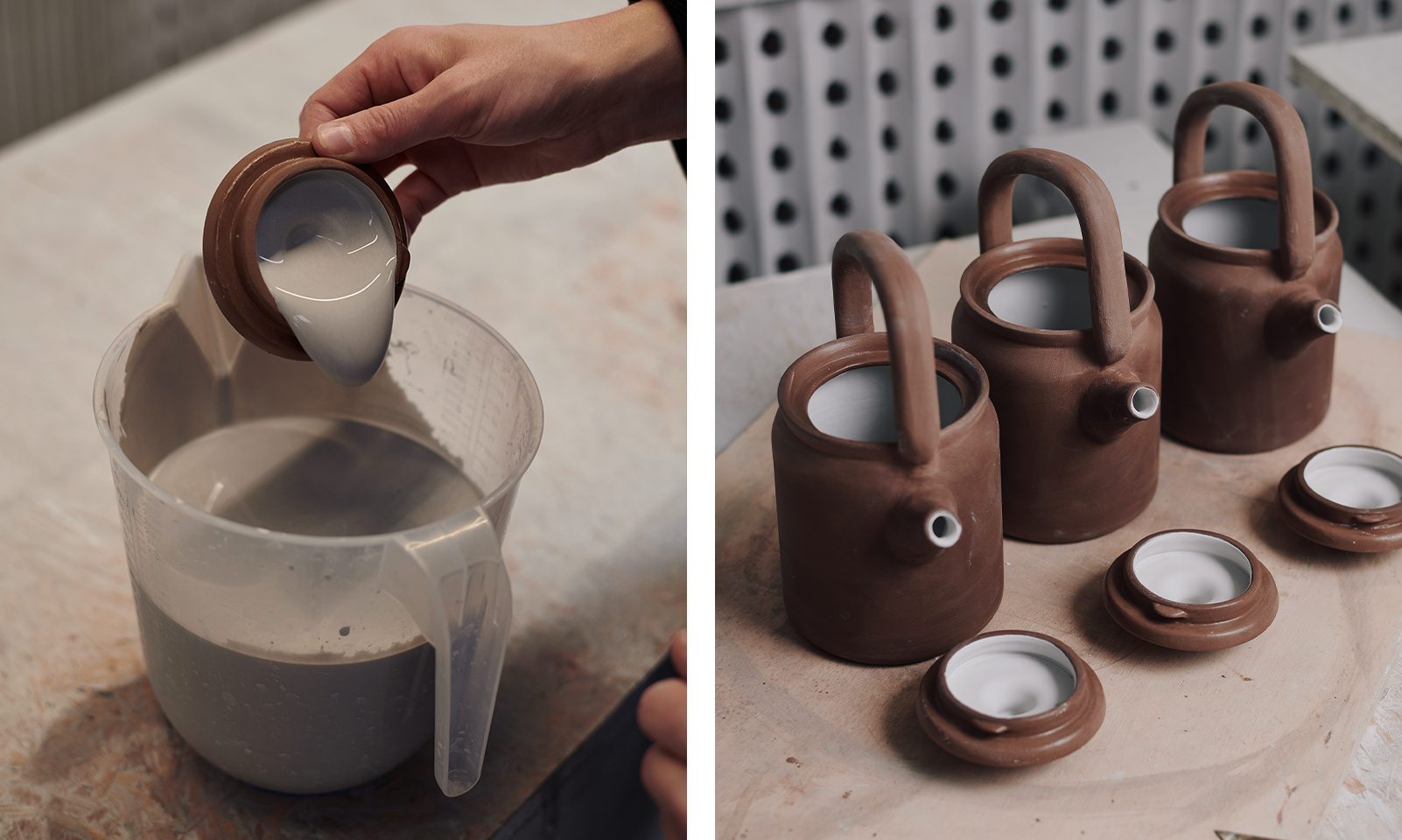 Homeware
From beautifully scented candles to vintage inspired tableware, the little finishing touches make all the difference. 
We use cookies on our website. If you continue without changing your settings, we'll assume that
you are happy to receive all cookies on the website. Please click here to view our Policy page.
X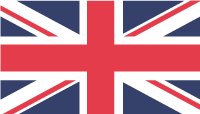 UK & Rest of World
Change to US & North America
© 2022 deVOL Kitchens.
Cotes Mill, Nottingham Road, Cotes,
Loughborough, LE12 5TL.