We offer a small selection of the most beautiful, practical and desirable wood and stone worktops currently on the market. We will template, cut and fit all worktops during your kitchen installation.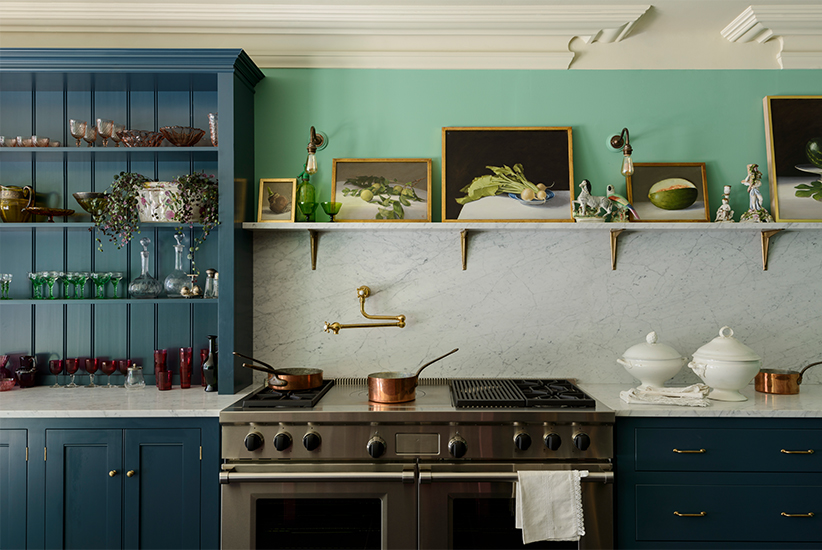 Carrara Marble (Polished or Honed)
Our favourite and most popular worktop, this natural beauty is so much better than any manmade recreations. It has its nuances and is definitely not for fastidious people who demand perfection. This is a living stone with the same requirements as any natural product, it needs to be treated with care and the marks and scratches that will inevitably form over time need to be welcomed as aging and patina rather than faults. 
Marble is softer and more porous than granite so it is easier to mark, but the surface is treated with a sealer to help ease any marking. Due to the way marble is formed, there is a degree of variation in the colour and veining of every slab. We buy the best quality slabs from the quarry in Carrara, Italy, and are very selective but we cannot determine exactly how each piece will look. This naturally occurring pattern and colour make each piece of marble completely unique.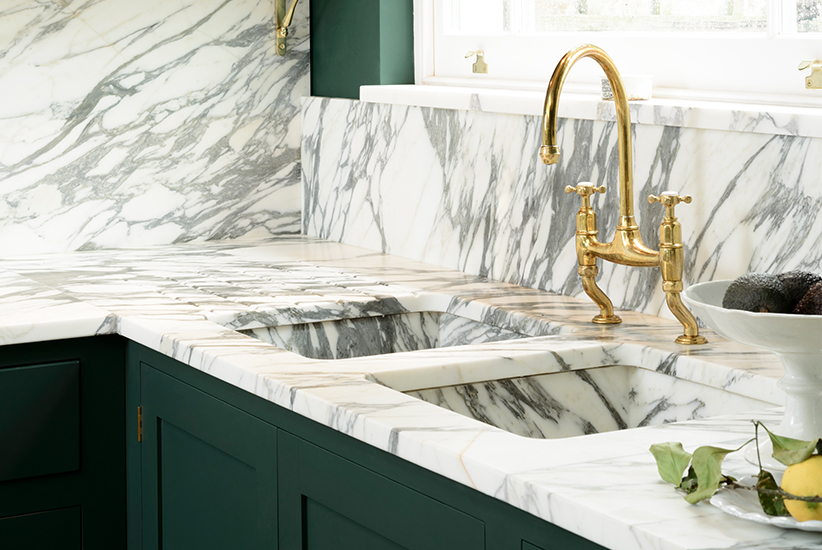 Arabescato Marble
Arabescato marble is quarried in Tuscany, Italy, and is a highly figured natural stone that has prominent veining that can vary dramatically. It is bold and striking, which is what makes it such a special stone. The beauty of this crazy stone is the natural variation of the colours and shapes, each slab is totally unique and has its own character so it is recommended that you choose your slab prior to purchase - we can, of course, help with this.
Arabescato is a dense marble, but as with all marbles it will scratch with use and due to its porosity it can be stained. Care must be taken to use non-acidic cleaners as all marbles are prone to being damaged by acidic substances. An amount of protection can be given to the stone by applying an impregnating sealer, this will be done prior to the installation of the stone but will require periodic reapplication over the life of the worktops.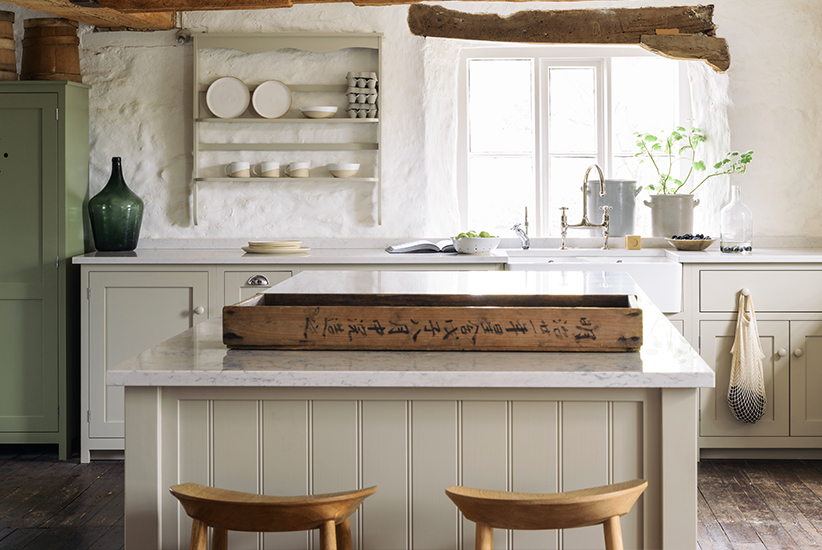 Silestone (Suede or Polished)
Silestone is a wonderful manmade material and our favourite option for people who prefer a more practical and uniform finish. Its interpretation of marble is excellent and people of an anxious disposition when it comes to worktops will be greatly relieved to know this Silestone option is available. It is not totally indestructible and of course it needs to be looked after but it is less trouble than its natural equivalent. We favour the light colours but are able to supply any of Silestone's options. There will be plenty of advice on cleaning and care when your worktops are installed.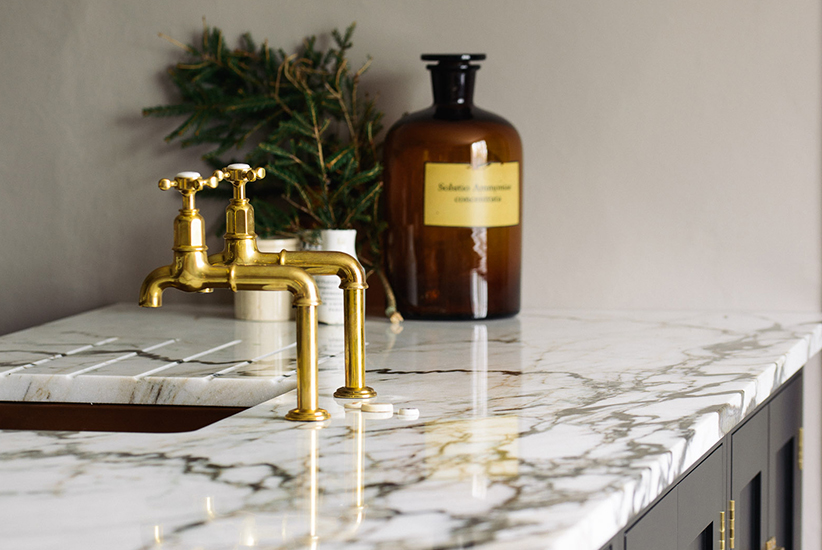 San Simone Quartzite
San Simone quartzite is quarried in Brazil and is a highly figured stone with prominent black and gold or rust veining. Each slab has its own unique character and the stone can vary dramatically from batch to batch.
Quartzite is similar to granite and consequently has a much higher resistance to scratching and staining than limestone or marble. Supplied with a polished surface, San Simone quartzite is easy to live with and requires very little in the way of maintenance.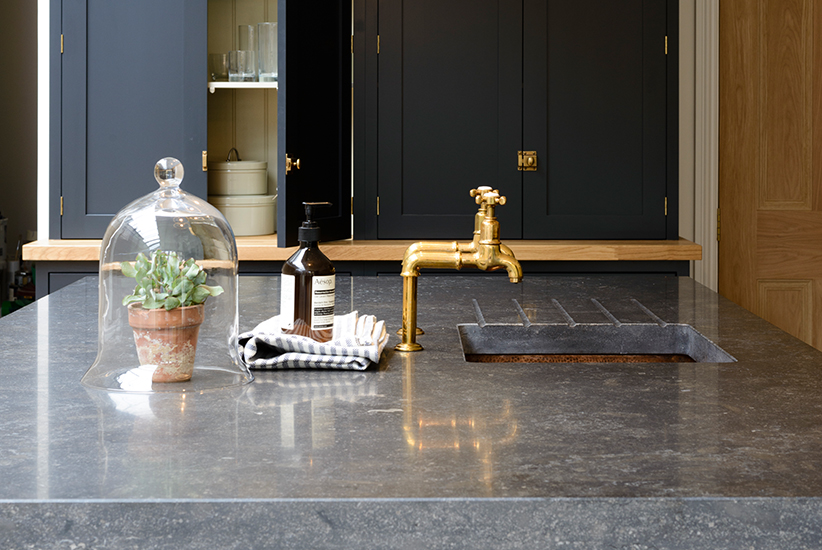 Belgian Blue Limestone
Belgian Blue is a sedimentary stone quarried from the Hainaut province of Belgium. Whilst predominantly dark grey in colour, the stone features subtle veining and if you look closely you can often see fossils embedded in the stone, which generally show themselves up as light flecks on the surface. The stone is honed to give a matt finish, which gives a natural feel to the surface.
As with other limestones, Belgian Blue is porous and an impregnating sealer is used to seal the surface and provide some protection from staining. The beauty of the material is that unlike a granite, which in general is consistent and doesn't mark or scratch, Belgian Blue will age with use and will gain character. The material is denser than slate but, as with a slate, it will reflect the way that it is used. Our honed black granite will give a similar appearance from the outset but it is the wear with use that makes the limestone stand out and have its own unique character.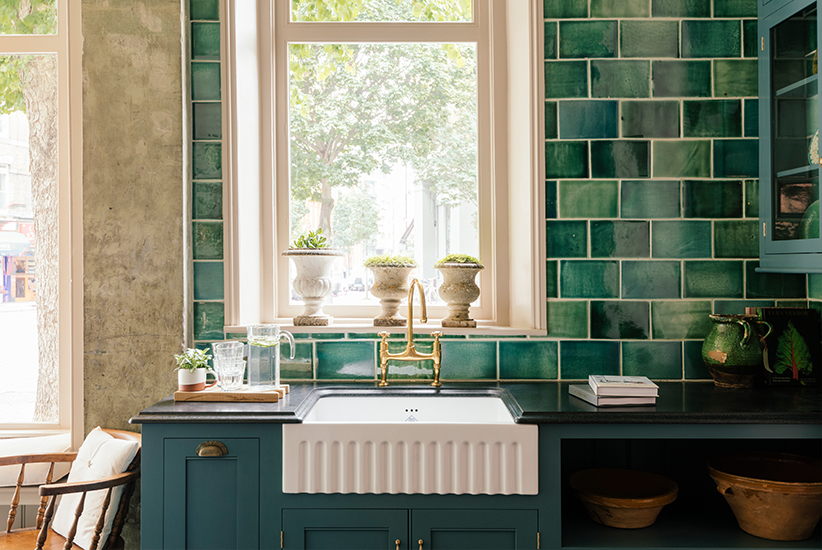 Black Granite (Polished or Honed)
Polished granite is the most durable natural work surface, it is not indestructible and can be scratched or marked, but its properties are still much more desirable than any similar manmade product, you just have to remember to take care. It has always been a go-to favourite for deVOL customers and recently we introduced a decorative ogee edging (shown in the image) which has a wonderfully tactile and glamorous feel, making us fall back in love with this classic black worktop.
Honed black granite uses the same material as the polished black but, due to the finish, a greater degree of colour variation can be expected and some worktops may have more visible crystals. Honed black granite is treated with an impregnating sealer as it is not as forgiving without a polished surface but people love it for its slate-like appearance and matt beauty. Unlike slate, granite is extremely hard so it is much less liable to scratch or chip.